About Dr. Tollefson
Travis T Tollefson MD, MPH, FACS, is the Director of Facial Plastic & Reconstructive Surgery at UC Davis, where he and his team offer excellence in the full spectrum of pediatric and adult facial reconstruction and aesthetic surgery. As Co-director of the UC Davis Cleft and Craniofacial Program, he also provides surgical care for children and adults with cleft lip and palate, microtia, or head and neck vascular anomalies. Dr. Tollefson enjoys the challenges of rhinoplasty and revision rhinoplasty, whether the patient is seeking improved nasal function, nasal appearance, or both. He recently co-chaired the clinical practice guidelines on rhinoplasty and is a strong patient advocate for his rhinoplasty patients.
Patient Education Emphasis
Dr. Tollefson is dedicated to providing the best possible educational experience so that each patient is fully involved in the decision-making process. Some patients take advantage of the clinic's latest technologies during consultation, including 3D facial analysis using an automated stereophotogrammetry system, educational offerings on iPad's in the clinic to inform patients about the patient's problem, the potential treatment options, and the alternatives.
Non-surgical techniques
Dr. Tollefson and his team also specialize in non-surgical techniques to help you look your best at any age. To meet the needs of some patients, a surgical procedure is not always necessary. Non-surgical options are available such as laser skin treatments, dermabrasion, facial fillers, and Botox injections. [Read More]
about dr. tollefson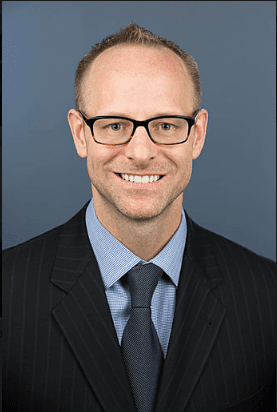 My philosophy is that short-term medical mission teams make a difference, and I have chosen to concentrate my efforts in sustainable relationship-building to work together to solve problems. This collaborative supportive structure with local surgeon champions is what I see as the future of Global Surgery.
After graduating with honors from the University of Kansas School of Medicine, Dr. Tollefson continued at KU for his residency training in Otolaryngology-Head and Neck Surgery . He then completed further specialty training in Facial Plastic & Reconstructive Surgery with his fellowship at the nationally ranked UC Davis Otolaryngology Head and Neck Surgery department. ( U.S. News and World Report).
Dr. Tollefson is a double-board certified surgeon by the American Board of Facial Plastic and Reconstructive Surgeon and the American Board of Otolaryngology-Head and Neck Surgery , and a Fellow in the American College of Surgeons. As Professor and Director of Facial Plastic & Reconstructive Surgery at UC Davis, he shares responsibility for teaching medical students, residents, and fellows, guiding research teams, and leading faculty education programs. As Director of Mentorship, he uses educational and feedback principles that he acquired when he completed a Masters in Public Health at Harvard . He enjoys teaching and collaboration with other surgeons globally, with current projects in Rwanda, Zimbabwe, Cambodia, China, and Haiti and heads educational efforts for the craniomaxiliofacial (CMF) division of AO Alliance in resource-limited countries.
Dr. Tollefson has published over 100 research papers and serves on the editorial board of the esteemed journal JAMA-Facial Plastic Surgery. His research interests focus on quality of life improvement for patients needing facial plastic and reconstructive surgery. As a Northern Californian, he recognized the need to reduce barriers to care for Spanish-speaking families. He led a team to validate a VELO-Spanish quality of life instrument for children with difficulties with speech after cleft palate surgery. Versions of this validated questionnaire are now being used in the US, Central and South America to better capture the effects of velopharyngeal dysfunction on children and their parents [Read more…]
complete cleft care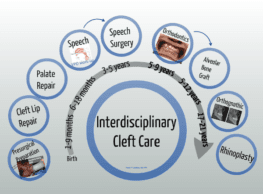 For me, one of the best parts of any clinic day is sitting with parents and their children with cleft lip and/or cleft palate and helping them navigate the timelines their treatment, surgeries, procedures, consultations with hearing and speech specialists, dentists and orthodontists, and others. The resilience of these families inspires me to work harder for them.
Recently, Dr.Tollefson discussed the care of a child with cleft lip and palate and answered questions from the public on Facebook Live.
team care
As co-director of the University of California Davis Cleft and Craniofacial Program Dr. Tollefson is honoured to work with an amazing team of specialists who are dedicated to these kids. At UC Davis, we believe coordinated care is better care, and patients will receive both the most advanced techniques and surgical procedures as well as be cared for by a team of pediatric specialists. Together, our multi-disciplinary team is accredited by the American Cleft Palate-Craniofacial Association for the management of children with cleft and craniofacial conditions. Using a multi-disciplinary team approach, we feel that we are stronger together.
education
Dr. Tollefson organizes an annual Interactive Cleft and Velopharyngeal Dysfunction Meeting for specialists from around the country to get together and share experiences. Dr. Tollefson published an evidence-based textbook, titled Complete Cleft Care to help guide professionals treating children with clefts with the best available practices. He is actively leading research to monitor the outcomes of children's surgeries and the effects of cleft lip – palate and microtia have on the patients and their families. [Read More…]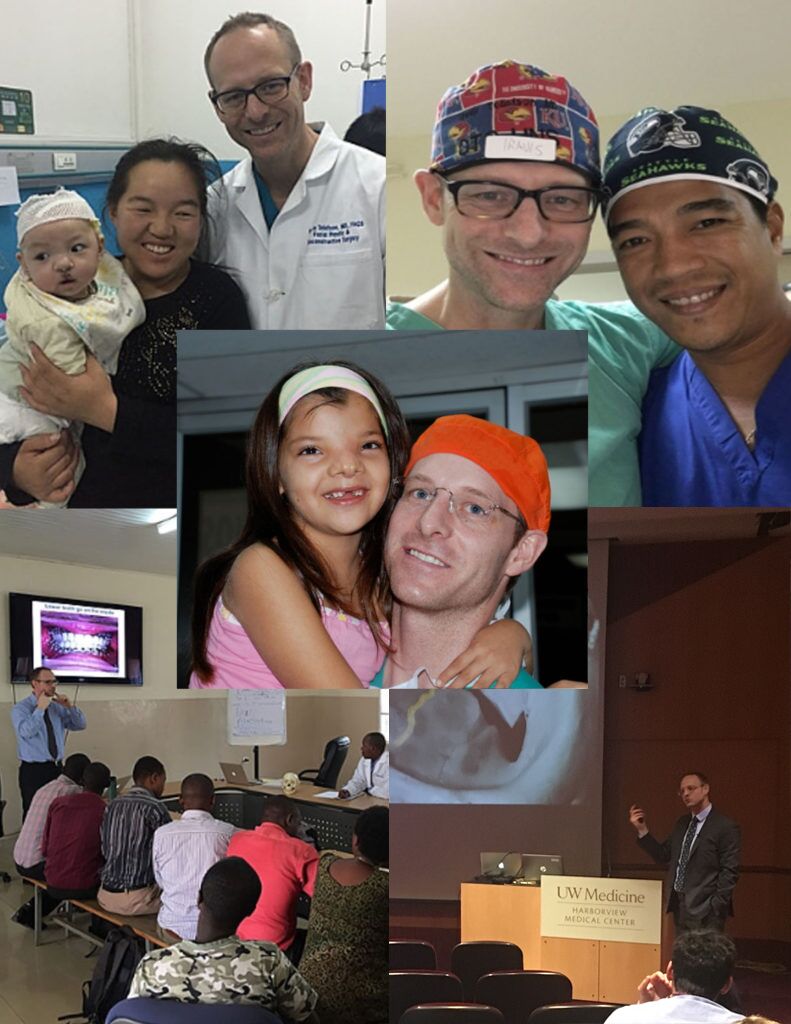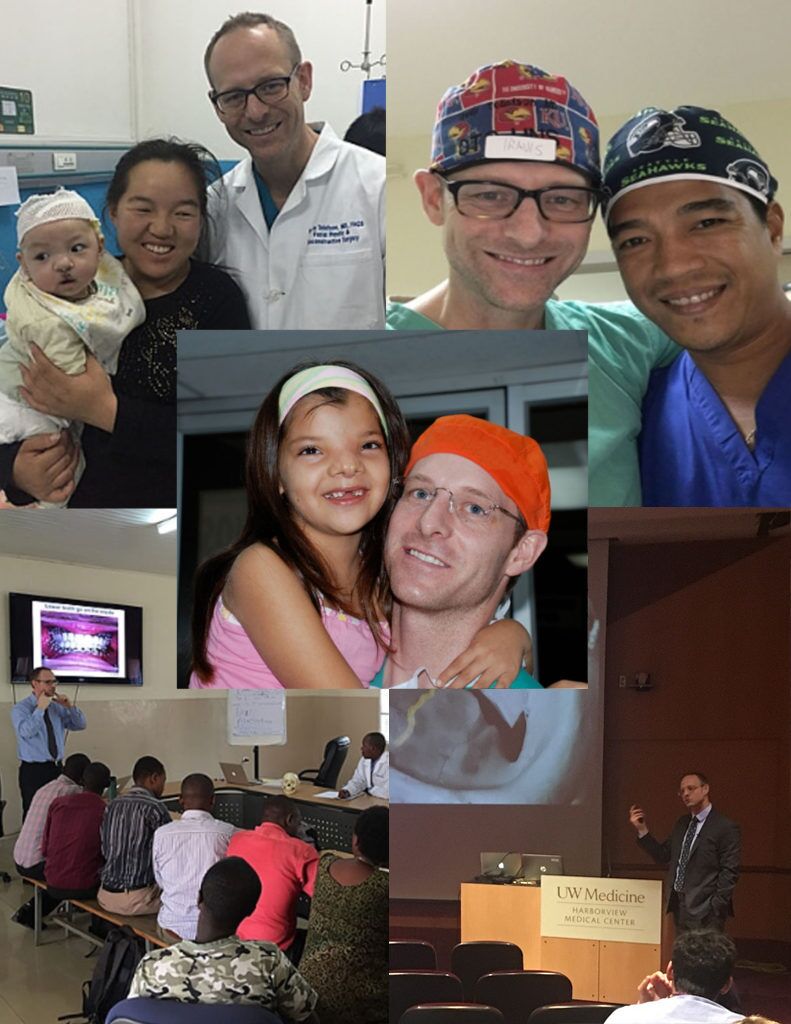 global outreach
background
Dr. Travis Tollefson received his MD with honors from the University of Kansas School of Medicine. He completed a head and neck surgery residency at Kansas University followed by fellowship training in facial plastic and reconstructive surgery at the University of California, Davis. After completing his fellowship in 2004, Dr. Tollefson began as an Assistant Professor at the UC Davis Medical Center in facial plastic and reconstructive surgery where he specializes in the full spectrum of facial reconstructive and aesthetic surgery of the face, including repair of cleft lip and palate, microtia, reconstruction of skin cancer defects, as well as rhinoplasty and cosmetic facial surgery.
beginnings
In addition to his academic practice in Sacramento, Dr. Tollefson has an interest in providing surgical care in low resource settings around the world. He first worked with an organization named Smile China to provide free surgical care to children with cleft lip and palate in rural China. This led to an annual volunteer commitment with the Smile China team and later with other groups such as Operation of Hope, serving in Ecuador and Africa and Love without Boundaries. Dr. Tollefson's long-term commitment has resulted in mentoring surgeons and surgically repairing hundreds of children's facial deformities. His experience with the UC Davis Cleft and Craniofacial Program has been enriched by caring for children born with facial clefting from around the world in places like Ecuador, Zimbabwe, Solomon Islands, China, Cambodia, and Rwanda to name a few.
today
Dr. Tollefson is dedicated to providing surgical care to children around the world by not only performing surgeries, but also in educating local surgeons to benefit subsequent generations of children. He has both mentored individual surgeons at their home institutions and conducted courses to educate groups of surgeons in Zimbabwe, Rwanda, Cambodia, Thailand, Haiti, Ecuador, and Russia. He is active in research in improving the ability of a patient in resource poor setting to receive safe surgical access for life-preserving surgery. His leadership in AO Alliance has led to courses on three continents dedicated to involving host country surgeons in improving the care of facial injuries.
***If you are interested in supporting Dr. Tollefson's global outreach endeavors, please consider a donation to
TOLLEFSON FUNAMURA GLOBAL SURGERY FUND
For Tax Deductible Donation, please send a check made out to UC Regents. Send check to : Sharon Schauer; 2521 Stockton Boulevard Suite 7200; Sacramento CA 95817
Help support a cause close to our hearts: providing global surgery services to patients without access to life-changing surgical care. Individually and together, we operate in Africa, Asia, and Central & South America, to help make a difference where it is needed most.
Serving the Greater Sacramento area, Northern California, the Central Valley and Nevada, facial plastic & reconstructive surgeon Dr. Travis Tollefson dedicates his attention to restoring and repairing the face for patients of all ages. Dr. Tollefson firmly believes that each patient's treatment care plan must be individualized to create a balanced and natural result.
Dr. Tollefson has wonderful bedside manner, is knowledgeable and listens carefully to his patients. He validated all of my concerns and provided a very realistic and conservative options to address my issues, albeit cosmetic. Glad I chose to get a consult from him.

Outstanding experience! Dr. Tollefson & staff are excellent.

Dr. Tollefson is an amazing doctor and person. Great 'bedside' manner & personality. He took his time with me and really listened to me

Dr. Tollefson, is an awesome dr.

Outstanding doctor & employees, medical assistants within 5 minutes of appointment times given, love the staff & Dr. Tollefson.

Dr. Tollefson was wonderful. He had a great rapport with my son. He communicated in a way that was both engaging and informative.

Dr. Tollefson is extremely well versed & knowledgeable in his field. He takes the overall picture & gives salient advice. he was thorough in explaining everything involved with the surgery & post-op care. He has exemplary bedside manner.

We could never say enough wonderful comments about Dr. Tollefson and his team. They are always delightful to work with. We feel like friends instead of patients!

UC Davis has excellent doctors! Dr. Tollefson spent a great deal of time going over my options

Dr. Tollefson gave an excellent explanation of the procedure on several occasions RN pre-op Pauline really set me at ease. Excellent!

Dr. Travis Toffelson is a superb representative of UC Davis Med. and an excellent surgeon!

Nurses were so caring and sweet and I felt my son was in the best care with Dr. Travis Tollefson. I really appreciated his passion for helping my son's condition.

Dr. Tollefson and the entire staff at the Children Surgery Center were amazing and comforting.

Dr. Tollefson is a very gifted surgeon and person. He built a large part of the tip of my nose from skin from my forehead. So far, no one can tell I had surgery and that was over a year ago. Always felt he cared enough about me and all patients

Dr. Tollefson is a top-notch surgeon and excellent physician, I recommend him highly.

Dr. Tollefson has been an excellent physician and his staff outstanding

Dr. Tollefson is GREAT office staff is also great.

I only have good things to say about UC Davis, my doctor & his nurses & staff, they're the greatest and Dr. Tollefson is a wonderful doctor and he called me after both of my surgeries & is concerned about his patient.

Dr. Tollefson and staff are wonderful!

Dr. Tollefson - incredible & humble; entire team in operating room - wonderful.
Home